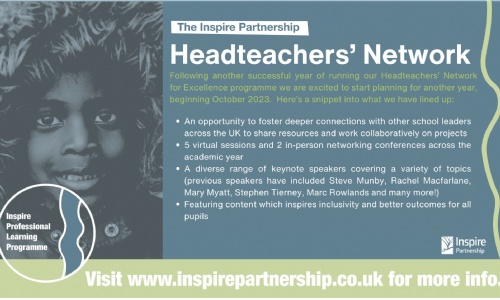 Headteachers' Network 2023/2024
Published 18/09/23
After another successful year of running the Inspire Partnership's Headteacher Network, we are really looking forward to continuing to collaborate with other colleagues across the education system to share learning, professionally nourish our desire to connect and support others to flourish within their schools.
Our aim for setting up the Network in 2021 was to give leaders the opportunity to share expertise, ideas and resources with others. Since the Network's launch, we have had the privilege of hosting school leaders from 21 schools across the UK who are intent on securing better outcomes for all pupils whilst developing a strong culture of evidence informed practice within schools.
It has been fantastic to see our peers across the network connect and collaborate outside the sessions, with visits to each other's school setting and forming exemplification groups to support specific subjects within schools.
Read More